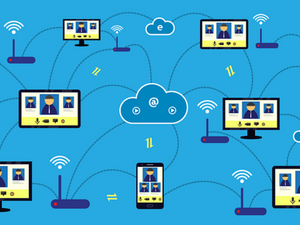 If you're not harnessing the power of cloud computing for small businesses, it's time to start! Cloud technology provides internet-based services using apps, storage, and processing. It's usually available "a la carte" and is essential to take your business to the next level. 
Security
Cloud computing provides a significant upgrade to security for your business. 
Data Backup
Data backup is the number one way to protect your data from server crashes, hacking, or other computer malfunctions. It allows you to store your important data on remote servers rather than a vulnerable computer.
Data backup typically includes options such as enhanced security, archiving, and real-time backup. 
Data Protection
Most cloud providers have additional security in place beyond what you could have on your computer. Services include firewalls, advanced encryption, virus protection, and anti-hacking software. In addition, the best providers have a dedicated team of security specialists working around the clock.
Disaster Recovery
Storing your data on the cloud means that you can recover your important information no matter what happens to your physical computer. For example, your entire building could be flooded or demolished, and you'd still have access to your data. It allows you to carry on no matter what!
Accessibility
Cloud computing for small businesses means you can access data anywhere for less cost.
Remote Access
As long as your employees have an internet connection and the right software, they can work anywhere. Whether it's to keep your workers happy or to avoid renting office space, remote access benefits your business.
Less Maintenance
When you contract with cloud computing services, they take care of all the maintenance. You won't have to waste time fixing things. You might not even need to hire an IT team. 
Reduced Costs
While the cost of hiring a cloud provider varies, it's almost always more affordable than doing it yourself. You'll save on the expenses required to house an IT team. You'll save on repairs and maintenance and reduce losses from downtime or lack of access.
Productivity
As a small business owner, harnessing the power of the cloud increases your production in two main ways.
Collaboration
When your whole team has access to cloud services, the potential to collaborate skyrockets. They can meet on demand without having to travel. They can track changes live. As a result, project management has never been easier.
The ability to share information and criticism in real-time improves transparency and communication.
Scalability
Traditionally, money and infrastructure are the most significant hindrances to scaling a business. Cloud computing solves both those problems.
You can redistribute the money you save using cloud computing toward business growth. The infrastructure you need not only scales easily and with little extra investment but is also under the control of whatever provider you choose.
Scale Your Business to the Next Level
Are you ready for all the benefits of cloud computing for small businesses? Reach out to your local cloud service providers to find the one that can provide everything you need. Embrace cloud computing and reach the future today.